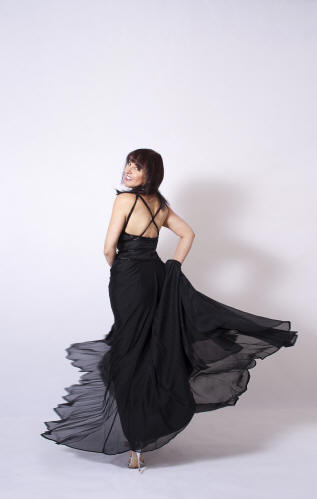 Di Solomon has a life-long background in music and performance. With both technical understanding and creative talent, she is an impressive performer.
Di Solomon vocalist~ pianist
~ composer ~ guitarist ~ voice coach ~
recording & performing artist
Di is a highly sought-after entertainer in many areas of the industry. Her vast and varied experience has honed her into an all round performer, and educated her in a vast array of musical genre.
She studied piano and guitar in primary school, and was on stage at every opportunity from age five. By her teen years Di was composing and performing regularly in restaurants and cafes.
Di trained and worked as a childcare supervisor, and was a pre-school musical director for three years.
Her performance career then took over, and Di then began her varied and busy schedule.
Her experience covers Cabaret, Corporate Functions, Fifties Rock and Roll, Sixties shows and Girl Groups, Jazz, Cocktail Bar, Duos, Swing, Vocal Harmony Groups and Backing Vocals, Acapella, Big Band, Comparing, Rock Bands & Current Pop. Types of venues include major hotels, clubs, pubs, private functions, theatre restaurants, ships, wine and cocktail bars.
Di has held a twenty-one year position as private tutor in vocal production and stage performance at Port Hacking High School, School of Excellence in the Performing Arts, Miranda.
She has four recordings available through her website or at gigs. One CD features her original material another is a live recording, next is her CD is titled "Stealing The Sixties and Seventies" featuring songs from her shows from so many years on stage. The last is her Work Book and CD Set VOICE CLASS with Di Solomon.
She plays live gigs with piano/ keyboard and/or guitar with or without a live band and with or without quality backing tracks.
Di is blessed with voice that soars through so many different kinds of music. She sounds lush and clear singing sweet ballads alone at the baby grand in a dark cocktail bar, or kicks the big dance songs with her enormous and powerful range at a huge stage gig. She also has an amazing ability in the studio to get perfect results incredibly quickly and a great ear for harmony.
Di performs with a duo or trio "Di-Version" or sings with her good fun five or eight piece party band "Celebration!" and a tribute show to rocking women called "Frock Rock".
Di is a full time professional vocalist musician and performer, and also a tutor in vocal technique and performance at Port Hacking High School (performing Arts High, Miranda).
She is a full writer member of APRA, member of MEAA and carries all the appropriate insurance cover (including public liability).
Di is in constant demand in all the areas covering:
* Solo performance:
-~Cocktail bar style elegant piano and vocal~
~ Up vibe Party Music ~Self contained one-man-band, playing keyboard with sequenced backing playing a vast repertoire from the sedate to the lively, older and current. Di can provide her own small sound and light system.
- Cabaret shows- with the "in house" band or self contained
- Support shows for international acts- Don McLean, Christopher Cross, John Rowles, Sir Howard Morrison, The Searchers-
- TV performances on "Good Morning Australia", "Midday Show" and "At Home".
* Bands -
~You can book Di Solomon to perform with anyone from her full stable of amazing, talented, professional musicians. Di can be part of a duo, trio, and well, just keep on adding til it's what you want for your event. This format will utilise backing tracks layered with voices and instrumentation for a full, modern brilliant sound.
- Di has performed with literally hundreds of Sydney bands, including The Fifty's, The Razz, but is most at home with her own band- "Celebration!" (previously Lady Di & The Corgis) They are the party specialists with an all-encompassing repertoire perfect for any audience.
* Stage shows
- Function venues, and theatre restaurant featuring lead and harmony singing, playing charactors like Dusty Springfield, Tina Turner or Karen Carpenter, dancing, playing various instruments, delivering scripted lines and jokes and also hosting shows.
* Session Vocalist
- Di works for advertising agencies, composers, production houses, recording studios and television stations singing everything from Coke jingles and vocals in various languages to country CD's and Rap demos.