Imagine walking down the aisle to your favourite love song, performed live on your Wedding Day by one of Australia's more exceptional vocalists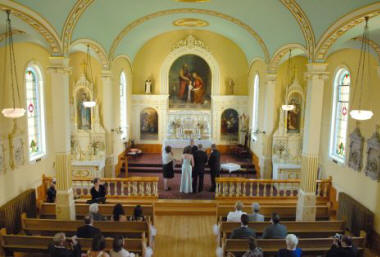 Imagine your first dance as Husband and Wife with Di's angelic, soulful voice performing your favourite song live at your Reception.
Book Di as a solo performer, or add musicians, for a bigger, cooler more musical presence.
Di works with an amazing stable of highly talented, professional musicians who easily come together in many different configurations to suit your needs exactly.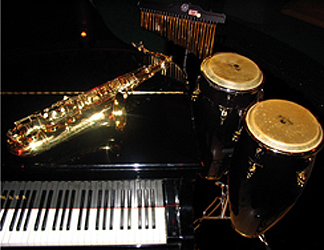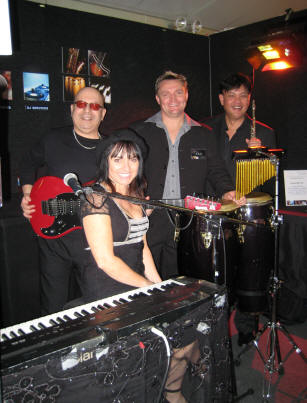 Any time live entertainment is required, Di Solomon is your simple answer. Highly experienced in performing to all types of audiences, in all age brackets, we keep everyone entertained & smiling.

You need to just decide how you'd like the music to look and sound, & Di will see who is available for your booking. Left pictured with Di is Troy Smith, vocals and percussion ~ Neil Youl, guitar ~ Andrew Oh on sax/flute

~ Options are ~

~ Adding a male vocalist/percussionist. He can sing guy-songs and perform duets with Di. NICE. As soon as you add another singer, the vocal harmonies start. Lush. If Troy Smith is available, he also can cover the DJ part of the evening if you like.

~ Adding a guitarist will give a rockier feel to the sound, add cool or lively solos and also add a larger presence to the look of the band on stage.

~ Adding Saxophones and Flute wind musician adds a gorgeous luxe overtone to the sound, also a cool look on stage.

~ Adding a string trio or quartet. Your Ceremony or Pre-Dinner entertainment will be thick with emotion and spirit when Di is accompanied with some of Sydney's top players.

~or you can go with a whole band, all live with no backing tracks, very nice indeed. For Diamond Decades, Di's backing band, the minimum musicians would be guitar or sax, bass, drums and keyboards with Di. The repertoire is different for the live band as we use written arrangements. Di has arrangements for a brass section, featuring Sax, Trumpet and Trombone. Now, that's the whole enchilada, and absolutely the BEST FUN. For more info, click here

All the professional musicians Di books are steeped in technical music understanding & possess jazz skills to add a significantly higher level of clever musical layers to the sound, but they still have lots of fun with pop songs.

From lounge music: quiet, elegant and low key, right up to dance music: vibrant and energetic,
Di covers it all with style and panache.

Click to Listen To Us recorded absolutely LIVE!
Di Solo ~ From This Moment On
Di with a Band ~ Kiss me If I Ain't Got You
Band Credits
all vocals~ Di Solomon, Troy Smith
sax~ Gary Honor
Congas~ Troy Smith
Piano~ Di Solomon

We have provided personalised professional perfect

entertainment for literally thousands of Weddings and Corporate events,

so you can feel confident to leave it all to us

---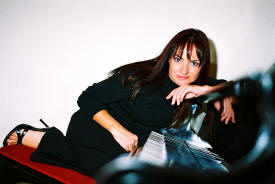 Di Solomon ~ is a truly awesome vocalist ~ it's hard to tell her from the record at times!
She does the big ballads with the same ease as she kicks the dance tunes.
Di plays piano and acoustic guitar. DI'S REPERTOIRE

---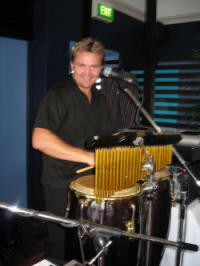 Troy Anthony Smith ~ has a lush singing voice and can easily carry off performing songs made famous by the world's most loved contemporary male vocalists. He also plays congas and percussion, and assumes the role of DJ late at night!
---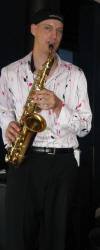 We have elements to add much more fun, music, stage presence vocal harmonies ~ we are renowned for that! Listen to our LIVE demo!
Also, between all of us, we have backing tracks to literally hundreds of songs from the oldies right up to current hits.
This huge repertoire expands weekly, for all the latest songs.


We can use your production (sound & lighting) or bring absolutely everything we need.
Speak to Di directly about your requirements, and we'll fit the bill ~ perfectly!
Now, isn't that just what you need? Too easy.
---
PO Box 892 Randwick NSW Australia 2031 
---
Also available, Di Solomon Solo, with a Jazz Trio, her full dance band
or in Cabaret with Diamond Decades