What People Say about Di Solomon

my goodness young lady, you really stole the whole show, didn't you!?
Glenn A. Baker
Di Solomon's voice is just gorgeous and her bright on stage personality shines brightly
all things entertainment
A female 'Billy Joel' meets 'The Energizer Battery'. Great repertoire, excellent tone and pitch and proficient, smooth piano touch. An up vibe entertainer with genuine musical talent; not the mention......cute!
Noel Macdonald
Multi- Award winning Platinum Record Songwriter/Record Producer

Di, Just wanted to say thanks for your music at our wedding, you're just totally AMAZING! All our friends commented on the choice of songs and you're beautiful voice.
You made our day,
Sarah and Mike Jones (wedding couple)

Hi Di, we had a fabulous day, and your
performance was appreciated by one and all
who attended.
Thanks for your assistance throughout.
All of our guests commented on your beautiful voice and how your singing enhanced
Rachel & Brad's important day
Thanks again, and take care
Sue Wootton (Mother of the Bride)

Hey Catherine, We had a great time and
Di was fantastic!!!!. We had people commenting on her all night at the reception, so thanks for pointing me in her direction,
she was dynamite and very easy to relate
and chat with. Cheers
Kyaran Butler (Bride)

Thanks Di, amazing… awesome… PERFECT. Can't thank you enough. You made our
ceremony so memorable. Thanks for all your help along the way!
Cherie and Martin Costa (Wedding Couple)
Di Solomon is a regular entertainer at Panthers - and is a sought after artist, whether it be in our "Dominique's Cocktail Bar" or corporate functions held at the club. You can be assured of a great nights entertainment.
June Stoddart
Entertainment Department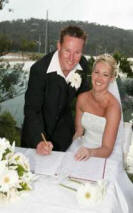 Well Di, what can I say. Your 3 piece band - Cocktail Hour, were exceptional. You guys truly made my wedding a fantastic event! Everyone is still raving about how you, how entertaining, how friendly, how you played to suit the mood and the crowd, how professional you were .... and the list goes on!
You guys are not only a brilliant band, you're also great people. You're very accommodating and easy to get along with, you certainly helped me relax and enjoy the night as I knew from the moment I walked into the reception, that Cocktail Hour had everything under control! The band name certainly suits your style of music - such a huge selection. You covered the pre dinner drinks right through to the final goodbyes without a hitch.
Thank you so much. I wouldn't hesitate to recommend you for any function, no matter how big or small. You guys are truly unbelievable.
Best wishes, Tracey & David Hawkins (Wedding Couple)
"Hi Di,
Just a short note…Thank you so much for your performance on 19th Jan. Everyone who attended
said you were great and adapted very well to the changing crowd.
Are you interested in some more dates down this way?
Thanks again J
Julie Ryan
Events and Functions Coordinator
St. Georges Basin Country Club
"From one song to the next, Di kept the dance floor busy the entire night. You truly played a huge part in creating a perfect mood for our wedding-fun all the way."
Greg and Nerida (Wedding Couple)
Di Solomon – A true professional, great vocals, never let you down.